Flight Value Voucher
Has your flight been cancelled or do you wish to travel at a later date? Convert your ticket with a booking date up to 15 May 2020 and departure point in the EU1, Switzerland, UK or USA into a Flight Value Voucher – at the original ticket value. If you convert your ticket until 30. September 2020, you will receive an additional 50 CHF2, Discount Voucher for another flight.
Did you book your flight after 15 May 2020? Or is your departure location in Greece, Bulgaria, Slovakia, or outside the EU, Switzerland, Great Britain or the USA? If so, use our flexible rebooking options.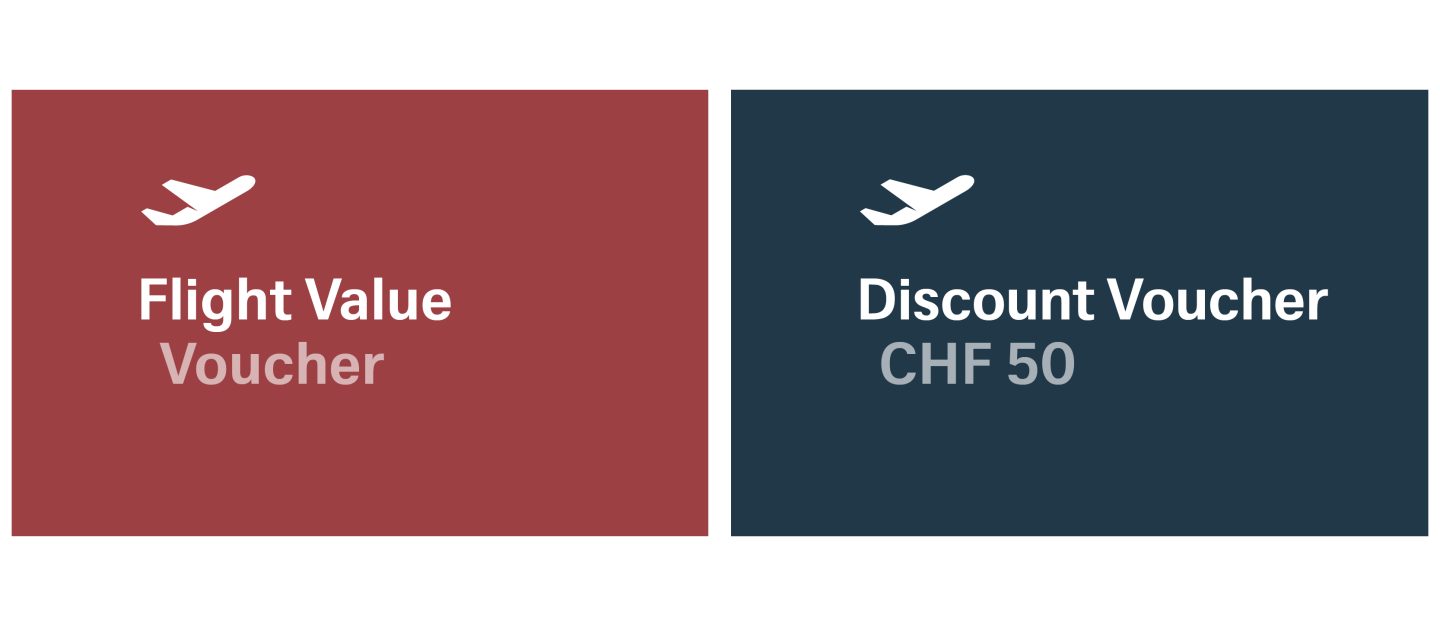 How to get your Flight Value Voucher
Requests
Enter the booking code or ticket number of the original flight for each passenger in the ​application form
Create
Open the confirmation link that you have received by email and log onto the Flight Value Voucher portal with your swiss.com or Miles & More profile.
Download
Download your Flight Value Voucher as a PDF file. You can also view the voucher again at any time via the portal. You will then receive a Discount Voucher for another booking by email.
Redeem
Book your new trip online on swiss.com. In the "Payment" step, enter the voucher code under "Redeem voucher". The Flight Value Voucher is redeemed directly. The discount voucher can be redeemed for one of your additional flights or an additional passenger within your booking when paying.
Please note
All SWISS tickets issued up to and including 15 May 2020 and with a travel date up to and including 30 April 2021 can be converted. Additionally, the departure location on your ticket has to be in the EU1, Switzerland, UK or the USA.
Flight Value Vouchers are valid up to and including 31 December 2021 for travel until 26 December 2022. 
 When booking with a Flight Value Voucher, the departure airport of the new booking must be in the same country as the departure airport of the original ticket. 
You need a SWISS or Miles & More user profile. If you do not have a user account, please create a SWISS user profile.
Frequently asked questions about Flight Value Vouchers
Frequently asked questions about the Discount Voucher
1 Excluding Greece, Bulgaria and Slovakia. 
2 In order to receive the Discount Voucher, please first convert your original ticket into a Flight Value Voucher online for (value of ticket). You can also redeem your Flight Value Voucher online. You will then receive your personal Discount Voucher in a separate email (reduction of CHF / EUR/ USD 50) that you will be able to use for another ticket purchase online.